A Soup named for Traditional Styles and Higher Levels of Quality, this is a Chicken Noodle Soup that will win anyone over! So, give your loved ones 'The Third Degree'!

Soup:
1½ c. Chicken Stock
3 c. Water
½ c. ¼" sliced Carrots
½ c. Chopped Potatoes
1 cube Chicken Bouillon
½ c. Orzo or other noodle
1 can cream of chicken soup

Boil the stock and water and add the potatoes, carrots and Bouillon together.

Once the carrots and potatoes are tender, add the remaining ingredients and any spices you would like. Make sure you stir the cream of chicken soup so there are no remaining chunks.

Serve and salt and pepper to taste.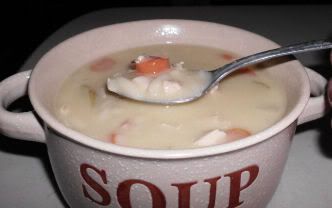 Makes 12 large servings. Liz & Her Grandmother rated this recipe 5/5 for deliciousness & aroma!
Note: The stock and water can be substituted for 3c. of Chicken Broth and 1½ c. of Water; For a vegetarian version, replace the broth/stock for Vegetable Broth/Stock and replace chicken with tofu or beans, then instead of 1can of cream of chicken soup, use ½ t. of Corn Starch to thicken, or leave it brothy! For larger noodles, use 1c. instead of ½c. , as Orzo takes up less room in a cup.
:)
This soup is perfect for canning leftovers in the freezer and always tastes as good as fresh when served as leftovers.